Special Offers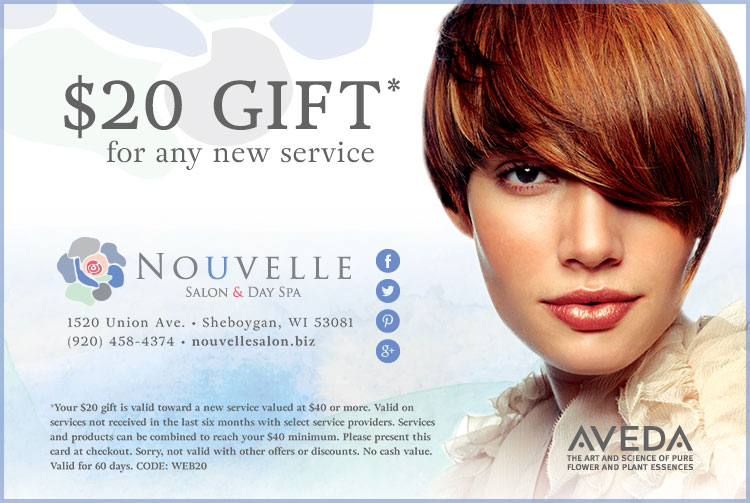 Introductory Offer for New Guests or a New Experience
New to Nouvelle Salon & Spa or interested in trying a new service? Download our $20 gift and book your reservation today!
Covid-19 Update:
Our goal with going forward is to provide you the best possible experience in the safest environment for all of us. With that being said, our team had implemented extra safety and sanitation measures. The safety and well being of guests and staff is of the utmost importance. We are grateful for your ongoing patience through this difficult time. We will make updates as needed.
Guidelines: 
All staff & guests must wear masks. There will be some on hand if you don't have one already. 
We ask if you are sick or feeling unwell to please reschedule your appointment to a later date.
Please come to your appointment alone as we are limiting the number of people in the salon at a time. 
Staff & guests must wash their hands before the service is started. 
Please leave all extra items in your car. 
Rituals such as hand massages and makeup touch-ups will not be available during this time.
Beverages and magazines will not be offered to ensure safety. 
All retail should be handled by staff only. Please ask staff for assistance and we would be happy to help.
Credit/debit transactions are preferred.
Covid-19 Update:
-Please reschedule your appointment if you have ANY cold symptoms.
-Please reschedule your appointment if you have been directly exposed to someone with covid-19.
-If you have had the virus, please make sure you quarantine the full and proper amount of time before you schedule your next appointment.
What may seem like a simple sniffle, could lead to a salon shut down. We ask you to please be responsible and considerate of others during this difficult time. There will be no penalty for rescheduling during this time frame to ensure the safety of staff and guests. Please let us know if you have any questions. Thank you all for understanding and stay safe!
March Good as Gold Savings 
Happy March to all of our wonderful guests! It is hard to believe that the pandemic is coming up on its one year anniversary. Although times have changed so much in the last year, we have finally made it to March 2021 because of YOU – our loyal guests! We truly could not have done it with without all of the on-going support and trust. We will be having some upcoming specials to thank you all for everything!
March 4th – 18th:
During that uncertain time, we took a negative and turned it into an opportunity to upgrade our software and website. To make things easier for our guests, we are excited to have added online booking and online gift certificate purchases! Haven't tried either of these options out? Now is a great chance! Purchase an online gift certificate during this time period and get $5 for every $50 spent! Book a manicure & pedicure combo online during this time frame and receive a certificate for 50% off a signature pedicure & express manicure combo to use in the future! Pedicure season is approaching – why not set yourself up for a great deal this summer?! This appointment must be booked March 4h-18th and cannot be combined with other offers/promotions. (The 50% off gift certificate will be given after the original appointment.) Check out these great options on
www.nouvellesalon.biz
!
March 19th- 27th: Litership 20% off days
Receive 20% off liters during this time frame! Want to ensure you get your product? Give us a call before March 16th and we can make sure it is ordered for you! Save money, save plastic, buy liters! Can't stop in? No problem, this deal is valid online as well. Go to our website
www.nouvellesalon.biz
and click "shop aveda" to have it shipped right to your house!
March 30th- April 1st:
The chilly weather unfortunately comes with dry hair for some. Get a FREE express botanical treatment with any service $40+ these three days!
Although the last year has been unpredictable, we are still excited to be doing what we love! Our entire team is so grateful to have such outstanding guests! Let's make this March a great one!